**********************
The Farm CEO Spotlight Interview (FCSI) series is designed as a public service to give other Farm CEOs access to ready-to-use experience-based information and education from fellow farmers who make discoveries or develop unique solutions/ideas they believe can help others.
The purpose is to promote experience-sharing amongst farmers, about Indigenous Knowledge Systems (aka IKS) they develop, to boost performance.
Indigenous Knowledge Systems (IKS) are tried and tested practical techniques/methods developed by individual (or groups of) farmers, to get improved results, often through innovative modification of existing procedures.
This maiden edition of the FCSI features (questions/answers, with photos and audio excerpts) Roseline Imoudu – owner of a Recirculating Aquaculture System (aka RAS) based Seed Catfish Production Farm Business in Ibadan-Nigeria.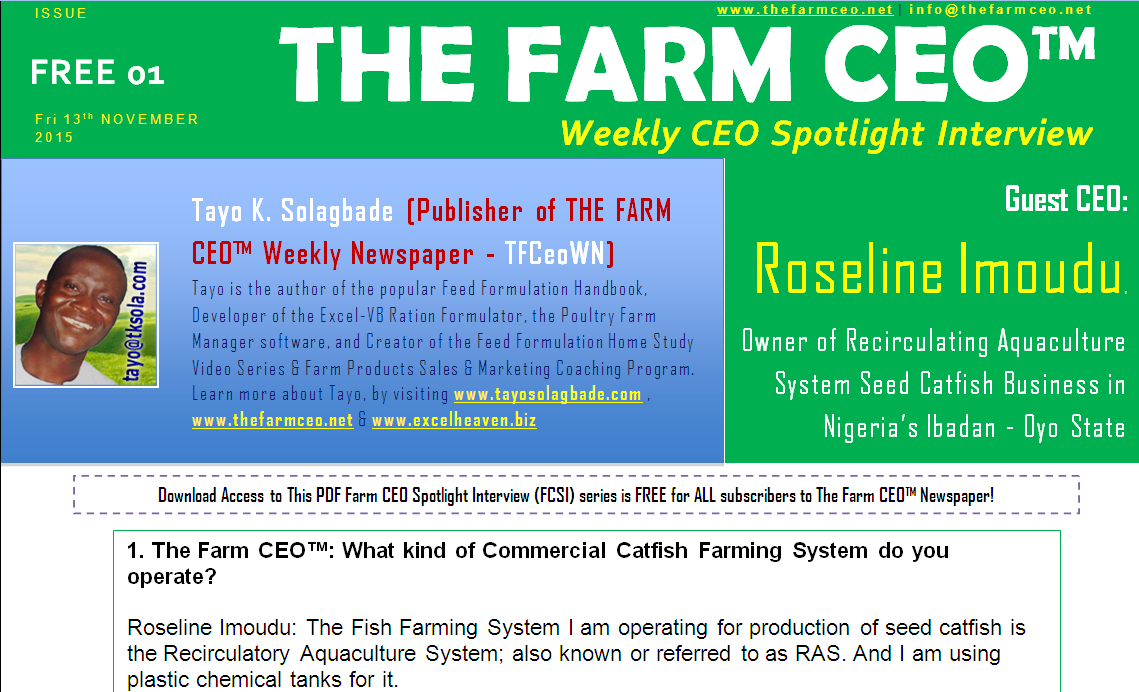 Click here to watch video or download PDF
====
After WEEKS of hard work writing it, I'm excited to announce my brand new first-of-its-kind 7 Week FREE Email Auto-responder Course for Farm CEOs and Those Aspiring (Based on my forthcoming same titled new book)
Title: Farm and Grow Rich™
Subtitle: 6 Zero Cost Steps to Boost Farm Income
Goes LIVE from Wednesday 7th October 2015
Click here to read excerpts from first message that will be arrive instantly in your inbox once you register
*********
The FREE maiden issue of THE FARM CEO weekly newspaper went LIVE on Mon 8th June 2015
[View the PDF version at http://tinyurl.com/tks-tfceo]
The screenshot below shows the cover of the 4 page PAID ISSUE 02 which followed it (All issue are available in DIGITAL and PRINT formats to subscribers).
Every subscriber gets a FREE copy of my Feed Formulation Handbook and my Ration Formulator at N4.1k instead of N12.5k PLUS ALL back issues of THE FARM CEO.

1 year (48 issues) subscription = $36 USD.. My Inner Circle members pay 65% LESS.
Get started by submitting the form at http://tinyurl.com/tfc-ffhb
ARCHIVES: Click here to view previews of ALL past issues of the newspapers
=====
Best Practice Solutions for Farm Businesses
SDAc's Cost-Saving Farm Business Ideas mini site offers custom best practice farm management systems (and software) development at affordable rates to farm business owners in Nigeria/Africa. Ours is a new, unconventional, but practical approach to provision of Modern Extension Services for farm businesses in this part of the world.
We work with crop and/or livestock farmers to develop and implement intelligent decision making systems that help their farm businesses become more efficient and profitable, through low cost adaptation of technology, while building on indigenous knowledge systems.
*****New Article/Report****
Secret to Finding Bulk Buyers Online for Your Farm Products (PDF Report) - CLICK to learn more…
********************************
FREE TALK: "3 Zero Cost Strategies to Attract Profitable Buyers for Your Farm Products!"
See details in the flyer below – click the JPEG image version to download the PDF.
Latest Offer: Tayo Solagbade's Farm Products Sales & Marketing Coaching program
NEW: Practical Livestock Feed Formulation (& Compounding) Home Study Pack
1. Sample Video (No. 2 of 33): Why You CAN Succeed In Your Livestock Farm Business [Feed Formulation Video Series]
2. Sample Video (No. 21 of 33): How to Correct Excess Energy Content in a Livestock Ration [Feed Formulation Home Study Video Series]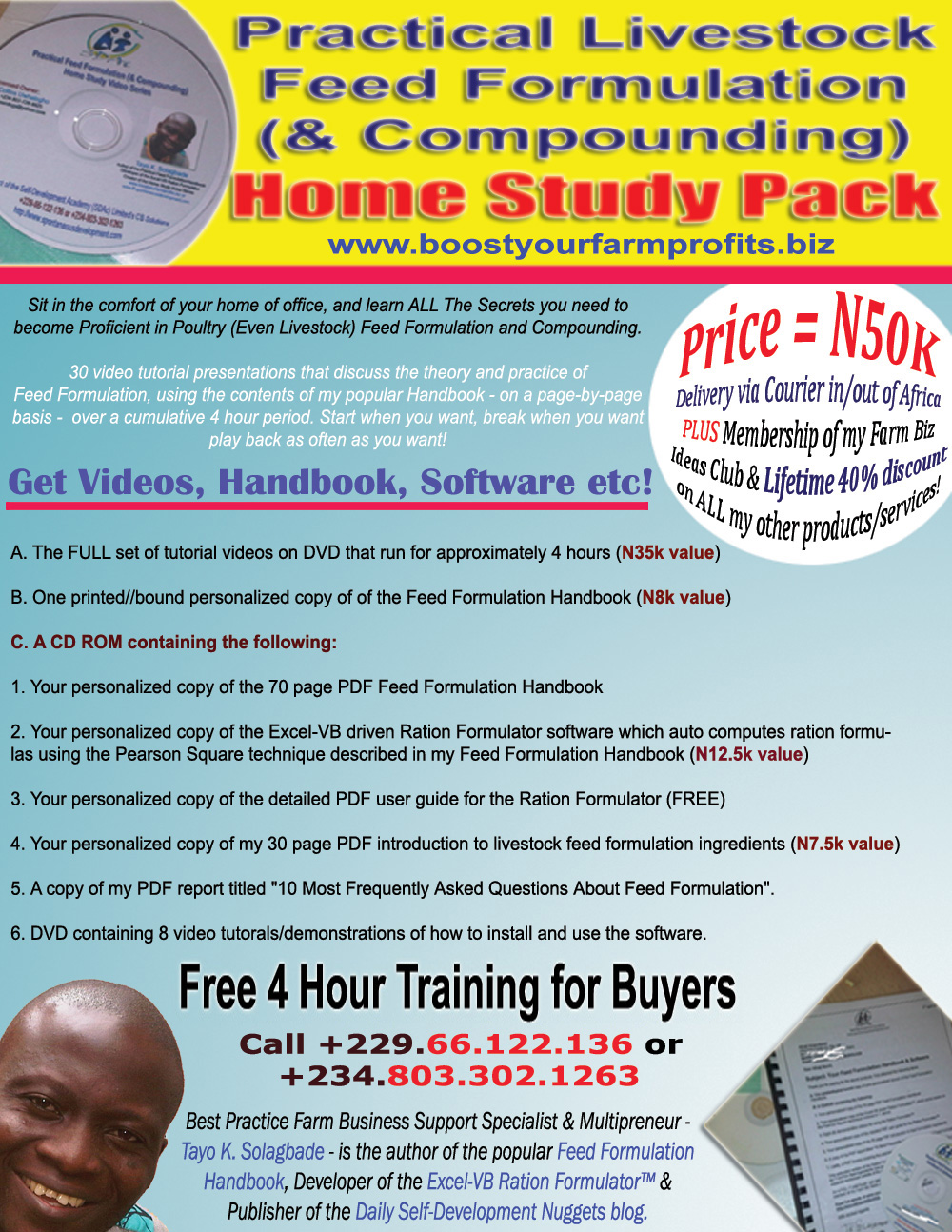 WANT THE FEED FORMULATION HANDBOOK & SOFTWARE? – Click HERE!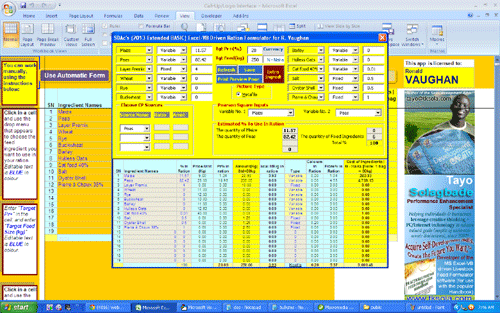 Fig 1 Above: Extended data form with currency specification, and a button for initiating addition of 7 extra ingredients (ADD INGR)
NOW AVAILABLE…EXE VERSIONS OF MY EXCEL-VB DRIVEN SOFTWARE!
Below is a screenshot of the 2014 upgrade version of my popular Excel-VB driven Ration Formulator sofware. Do you notice it's actually an EXE (executable) file, and NOT an Excel workbook…even though it's in Excel?! Users need not enable macros. Plus, it works on any Excel version for Windows or Mac (i.e running Windows on Parallels Desktop for Mac). All past buyers will get it FREE!
Learn more on my Self-Development Nuggets blog.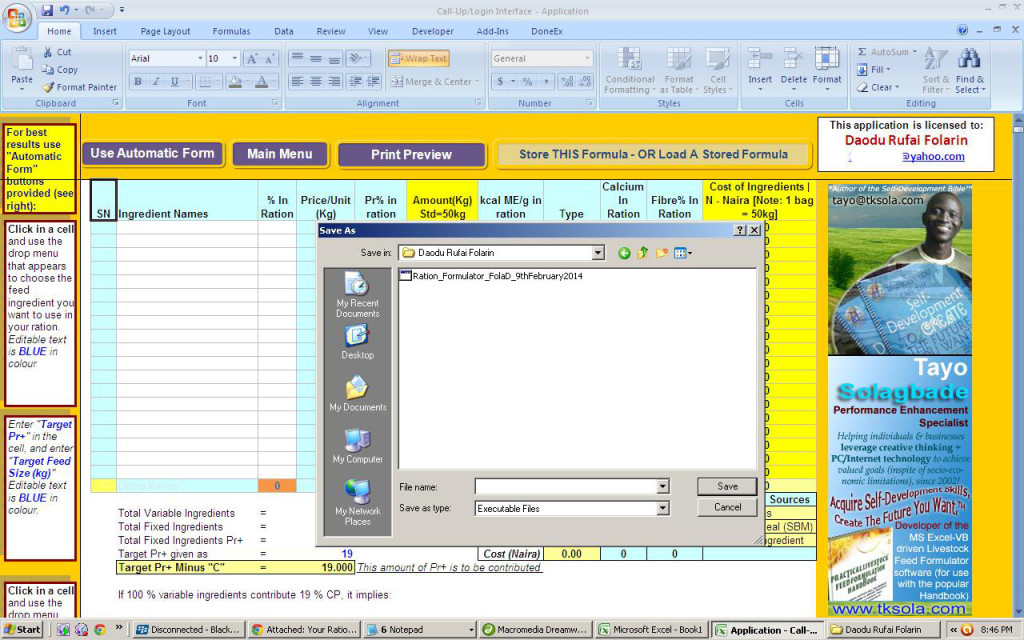 Learn how you can get the Excel-VB Ration Formulator HERE!